Hello there new guys! We are so glad to have you around and we thought we might bring a little bit of diversity around here! That is why we have this new chaosmen threesome session with these three tattooed guys! Two of them have been together by about three months and they thought they might change something in their sex life when they invited this other dude to join them into their threesome experience! It was their first time together and they were pretty eager to get started! So as soon as they were all in the blue room that they have rented they had a beer and then they started to take their clothes off! If you wanna see what happened next, all you gotta do is relax and have a seat and we will tell you everything!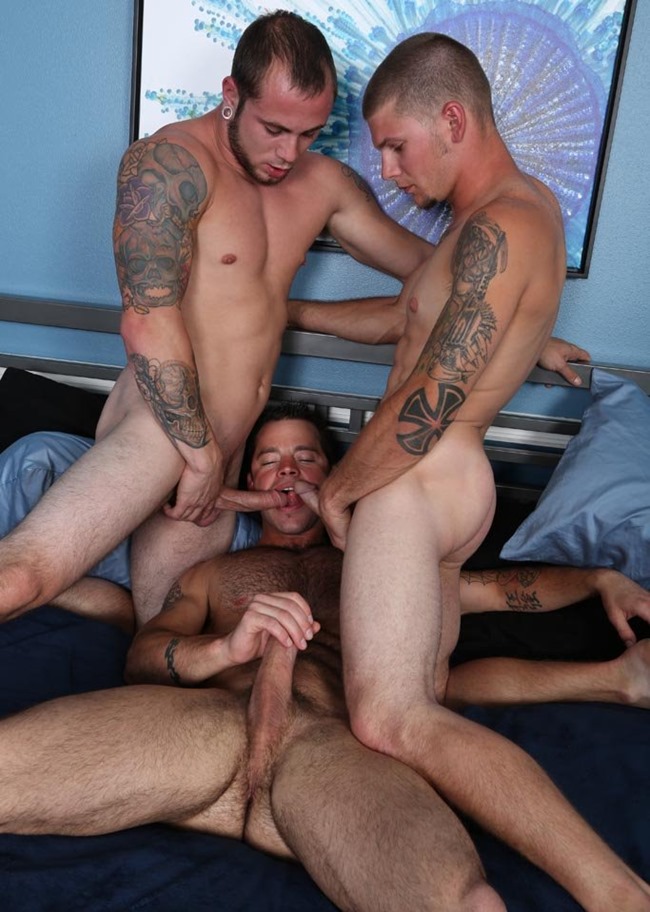 While this dude was lying on his back and started to rub his long and hard cock, this other two dudes came along from one side and from the other and started to stuff his mouth with their two hard tools! All that he had to do now was to suck them both by taking turns! Soon after that one of them got on top and had in his tight ass his hard tool and he kept moving and sliding that fat cock in and out of that tight ass hole! The other dude was enjoying his continuous blowjob until he got the chance to fuck and cum! In the end both of them had the chance to cum all over this guy's fat cock! If you wanna see this entire scene , you are invited to join us and we will give you full access around here! You won't regret! Join us!
Check out these hunks banging each other!