Cruz on the edge
We had a surprise today for Cruz. It was his birthday , and for the occasion we just had to make him a gift. And so, we blindfolded him, and had one of the other guys perform a blowjob on him. And he was one of the guys that gives some of the best head you'd ever going to have. Suffice to say Cruz really enjoyed his special gift in this afternoon in the form of the superbly hot and long blow job session that he got from his buddy! So let's get the chaosmen show started without delay today everyone!
This is what I call a surprise. Cruz was expecting a surprise but not this kind of surprise. After he entered the room he was blindfolded and undressed. He was so nervous he was expecting a house full of guest not a romantic evening with his man. When he felt his man's soft lips touching his hard cock, he just couldn't asked for more. Although they were together for a while his boyfriend didn't sucked his cock. They fucked but no blowjobs, so this was just perfect for him. Enjoy it!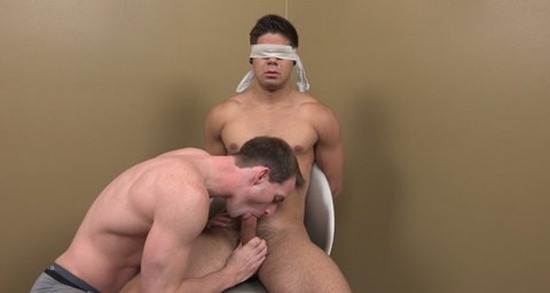 Enjoy seeing that guy receiving a blowjob from another guy!