Horny Cruz solo
The horniest guy that we had here, namely Cruz is back. And this time it's just a solo masturbation chaosmen scene, but as always he delivers without fail. Just look at him working his cock fast and hard only to get himself covered in his own load of jizz. All in all we were at fault here for not providing him with a pair, but hey he still made it work. This solo scene is sure to be to your taste, as you guys requested to see Cruz some more. So he has taken up the challenge and he's here along with that fine and big cock of his to entertain you some more this afternoon!
Cruz is one of our hottest guys and you can all see while. Beside his pretty face and his killer smile, he has an amazing body, all fit and a fat cock ready for some pounding. Unfortunately for him he is single for a while now so he didn't had anyone to call when he got horny. So he put on a hot porn movie and started jacking off his cock in front of the tv in his king size bed. Check out the entire gallery to see how it all ended and what our smoking hot hunk did next. Enjoy it!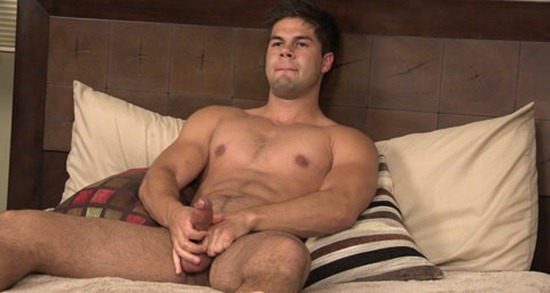 Enjoy as horny Cruz jerks his big fat cock!